Pakistan is the 2nd largest youth population in the world with almost 150 million young people that are mostly connected to the Internet. At the same time, we are going through a global transition from the industrial age to the knowledge age in which technology is playing a critical role. Out of the 49 emerging technologies, there are 7 technologies that are disrupting almost every sector. These 7 technologies are 3D Printing, Artificial Intelligence, Augmented Reality, Blockchain, Intelligent Vehicles, Internet of Things, and Smart Robots. Entrepreneurship and Innovation in emerging technologies has a worldwide potential of creating 50 trillion dollars of economic impact. Pakistan needs to take its fair share of this global market And we can do it by joining our forces.
We can do it if we combine the two biggest assets Pakistan has, youth and overseas Pakistanis. The youth of Pakistan has the energy and dreams and overseas Pakistanis have global exposure and professional experience.
PURPOSE
Develop a strong network of overseas Pakistanis from professional backgrounds to launch Pakistani technology startups, serving the country while making money in the process.
GOAL
100 Technology startups by 2023 launched at the global stage in emerging technologies, focusing on following tech clusters
HealthTech
EdTech, AgriTech and More
WHY IDEAGIST
Largest incubation program in Pakistan
40,000+ students are already enrolled
More than 80 universities are in partnership
Recognized nationally as a leader in incubation

Our Success in

Pakistan
Nov 2018 Proposal to the Minister of IT on Startups
Feb 2019 Proposal to the Prime Minister office on Startups
Jun 2019 Approval by the PM and birth of Kamyab Jawan Startup Pakistan
Dec 2019 Soft launch of Startup Pakistan
Feb 2020 Pilot Cohort started with 4,800 students
May 2020 2nd pilot cohort with 20,000 students
Jul 2020 Graduation of 2760 students from the training program
In Collaboration with

 

80+ Institutions
('[metaslider id="7631″]')
Despite

COVID-19

we were able to graduate 2760 students without any government money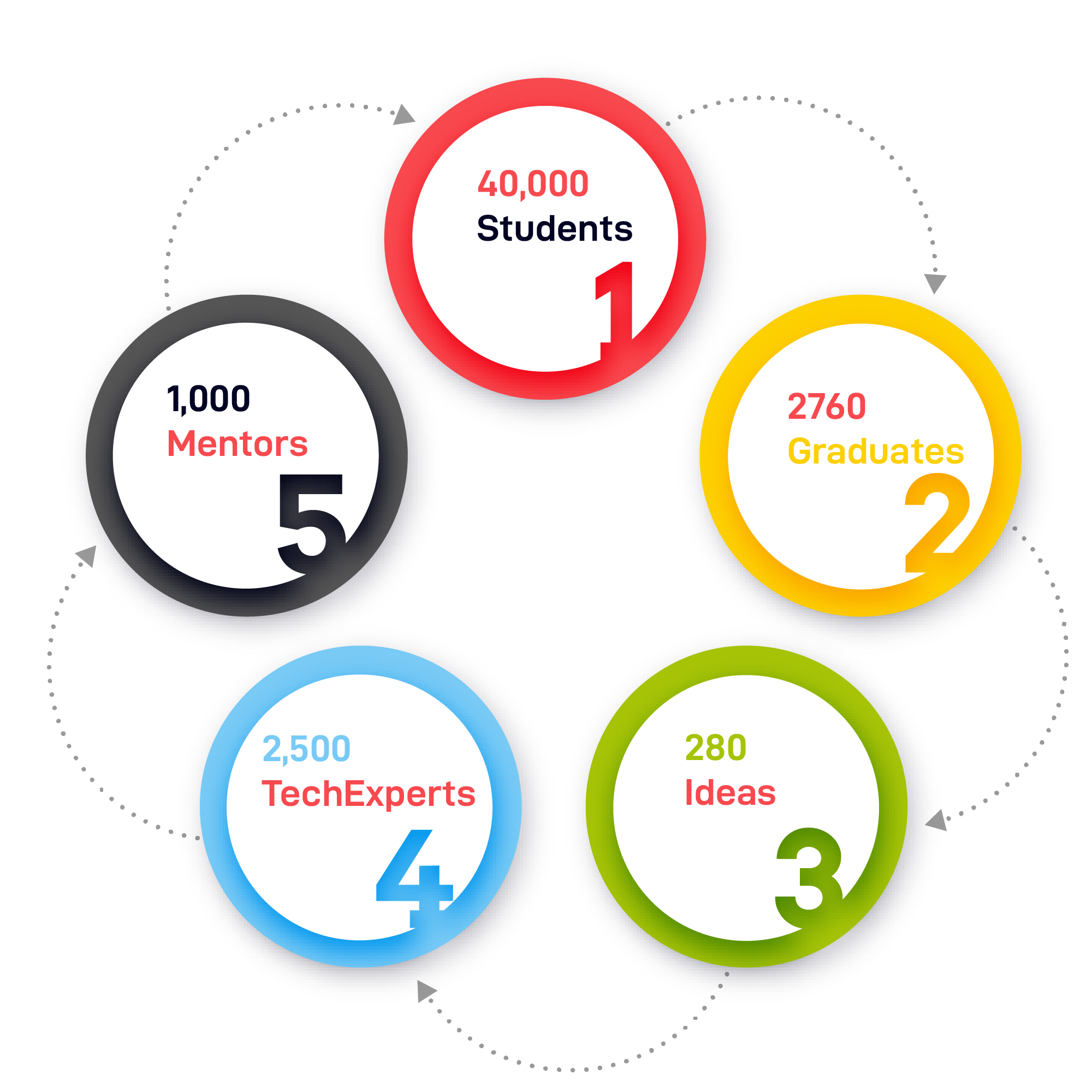 Launching  100 Technology Startups at the world's stage By 2023, addressing indigenous needs through technology that is scalable at the global level.
Quarterly idea pitch competition Pakistan 100 members vote on ideas
Select the top 10 ideas to be supported by the network
Setup legal structures
Setup advisory boards
Assign right mentors
Collectively support startups to grow fast
Intellectual Capital
Advisory Board Member
Become a technology solution designer
Become and mentor or coach
Become a part-time Product Manager or CTO
Be part of the judges' panel
Technical Review
Social Capital
Make a sales connection by making an initial intro
Help broker a sales deal
Help broker a strategic partnership
Financial Capital
Invest as an angel investor
Invest in crowdfunding campaigns
Invest in an angel fund
Invest in a VC Fund
Earn Equity For Every

Contribution 
Receive convertible notes in return for your contributions
For all convertible notes, Y-Combinator's Safe Standard will be used
All companies will be registered as Delaware C-Corp
Your equity will grow with the success of the company
Exit at Series A
Willingness to actively create awareness about the program among overseas Pakistanis
Be responsive, attend demo events, vote in the quarterly pitch competition
Ready to invest at least 20 hours every year in actively supporting one or more startups
If an investor, ready to invest at least $5,000 per year
Referred by an existing member
Must have 10+ years international experience in technology, business leadership, or in entrepreneurship, ideally technology entrepreneurship
Must be determined to invest time, contacts and/or money, depending on the personal situation
Must be willing to take at least $20 per month membership, paid annually, to support the management of the network
Annual Max Benefits

Votes per Quarter

Pitch your own Ideas

Co-Founder Status

Annual Event Passes

Require to Sign-up Others

Time Commitment Per Year
Leadership Council
Paid Annually
√ USD 60,000

√ 3

√ Yes

√ Yes

√ 2

√ Yes 10

√ 30

Completed
Core Leadership Group
Paid Annually
√ USD 40,000

√ 2

√ Yes

√ Yes

√ 1

√ Yes 5

√ 25

Now Open
√ USD 20,000

√ 1

√ Yes

x No

x No

√ No

√ 20

Opening Soon
Leadership 

Council Members
('[oxi_team_show id="2″]');
Ask Us Questions On WhatsApp
100 Technology Startups by 2023. Let's join hands with IdeaGist, Become a part of this Global Ecosystem for Pakistani Startups.